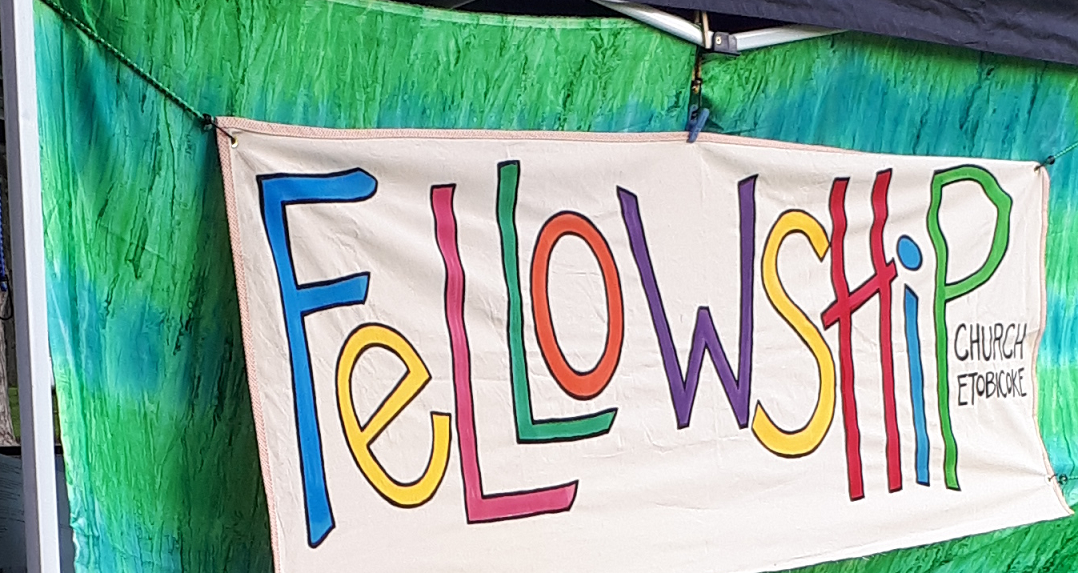 It's back to school time for the kids and teachers, inspiring me to sit down and tell you about what's happening, God willing, here at Fellowship for the Autumn season. In no particular order ...
The Coffee Break Ladies' Bible Study has now been running for more than 30 years, can you believe it? It continues to grow in size and in significance. This year begins with a 5-week study of Ruth on September 11th, and continues on every Wednesday through the Fall. Come for coffee at 9:30 and stay for the study and discussion.
Walking Club: Last Spring we began a walking club, and over the course of the summer we gained many new members. Walking is great exercise and an easy way to get to know other people. Throughout the Fall we will continue every Friday from 9:45-10:45 in the neighbourhood, except for the 2nd Friday of every month, when we will drive to explore some great new park.

Older Adult Luncheon Program

- By popular demand, we are restarting our popular "Older Adult Luncheons" on October 1st and then continuing every other Tuesday. Last year the series grew steadily in numbers over the course of the year, and we enjoyed making new friends and learning new things together. We will continue with the same format as last year: a simple, healthy lunch, followed by an engaging speaker or activity.
EtobiKids Club – Every other Thursday, kids grades 5-9 gather for an evening of fun, learning and practicing leadership skills. The Club starts Sept. 19th, and runs every other Thursday, early evening.
writtenVERSESspoken - This past April we hosted an Open Mic poetry session which was very inspirational. Based on the successful format, Fellowship and Neilson Park Creative Centre are joining together to host a monthly series of Open Mic poetry sessions, alternating between their venue on ours. Bring your verse! "writtenVERSESspoken" kicks off for Canada Culture days from 2-4pm on September 29th at NPCC, then 7-9pm on October 24th at Fellowship, then back to NPCC on Nov. 24th.
Family Games Nights - Last Spring we had a great time at our games night. So good, in fact, that this Fall we plan to make it a monthly event. Bring your own board game, or use one of ours, but come! Then in November 22nd, we will host a special games night (and dinner? Stay tuned!) in conjunction with our 2nd annual Christmas Tree lighting to ring in the Christmas season.
Tots Drop In - Throughout last year, we ran a weekly "Tots & Caregivers Drop-In." At the same time, the popular drop-in run by the George Hull Adolescent Centre had to move out of the area. So, to meet a community need, we are giving our space, Tuesdays and Thursdays from 9:30-11:30am, to George Hull to run their popular "Learn and Play Drop In." We can't wait to see how this program will grow!
Special Collections - Again this year, we will be holding collections for three causes: Lighthouse (congregational collection), St. James Food Basket (neighbourhood collection), and warm clothes for a local public school. As was the case last year, we know our donations will be very much appreciated.
"Ride for Promise" Screening Event - Join us October 6th at 7:30 pm for a special film experience as part of CRCNA's All Nations Heritage Week, sponsored by the Toronto Race Relations Committee. "Ride for Promise," a documentary film short, tells the story of Curtis Carmichael, a young man who biked across Canada to challenge and educate people on their perceptions of racialized youth and marginalized communities. Curtis (curtiscarmichael.ca) will be at the event for a panel discussion and audience Q&A on this important topic. See the trailer at www.tazamedia.com/rideforpromise.
Cooking Classes - Toronto Public Health will be running a special cooking class entitled "Eat Well to Prevent Diabetes" in our kitchen, starting October 30th. This class, and the Arab Community Centre's cooking class, are ways we are offering our facilities for the benefit of our neighbourhood.
Faithgroups are a major way we deepen our faith and knowledge beyond Sunday mornings. And, they provide great opportunities to get to know one another better and care for one another. Typically these groups meet in the home of a host. Not in a Faithgroup? Speak with a Council member right away!
And of course the highlight of our week is when we gather at 10am every Sunday to worship God, followed by coffee, tea and rich fellowship immediately afterwards. As well, we continue to make our building available on Saturdays to the Mississauga Filipino Seventh Day Adventist Church, and on Sunday afternoons to the Korean Presbyterian Church of Canada.
Everyone is always welcome at all our activities. Unless otherwise noted, all events are held in the Fellowship Hall at 800 Burnhamthorpe Road. See the Events page of this website for further details, or click here to see this in calendar summary format. It looks to be a busy and productive Autumn season here at Fellowship. To God be the glory, always!
- Mark